Buttonwood Inn on Mt Surprise Room 6 – North Conway, NH
Kancamagus Highway Room
This is a Deluxe Plus Room that extends from the front of the Inn to the back. This is a large room that can accommodate 4 people with its generous sitting area, Queen bed, and Day/Trundle Bed. The vintage room décor includes period wallpaper, dressers, clawfoot tub, custom-built Queen bed/armoire, and antique wide plank floors. Large windows allow for views of the pool, hot tub, gardens, and Merriman Forest. Each additional person in the room is $55.00 per night plus tax.


History of the Landmark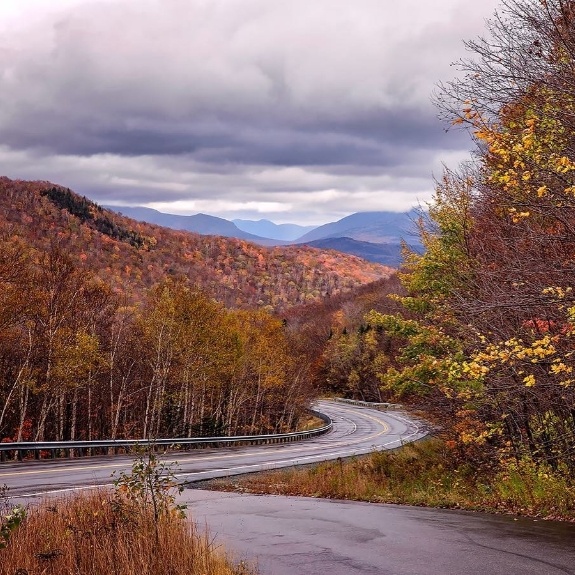 Anchored in the east by Conway Village and to the west by Lincoln, the Kancamagus Highway is driven by more than 750,000 vehicles every year and is some of the loveliest and wildest land in the White Mountain National Forest. This scenic corridor is a groove cut through a wall of trees and lies mostly in the town of Albany, New Hampshire. It bisects the Pemigewasset Wilderness, which is roughly square. The Kancamagus (is known chiefly for three things: scenery, difficulties with the name, and moose). At approximately the midpoint, about 20 miles east of Lincoln, look for a barely visible National Forest sign — on the south side of the Kancamagus Highway — marking the trailhead to Sabbaday Falls. A ten-minute hike on a gentle, wide trail leads to a striking flume and waterfall.
The Kancamagus Highway (also referred to as the Kancamagus Scenic Byway, or simply "The Kanc") was named after the last chief, of the Pennacooks, who dominated a confederation of Indian tribes living in New Hampshire in the 17th century. By 1685, the Pennacooks were only a shadow of what they had been. Kancamagus and his predecessors tried to live in peace with the English settlers, but it was not to be.
Major Richard Waldron of Dover invited the Pennacooks to a feast, then seized several of the guests and sent them to Boston in chains. The Pennacooks had no choice but to flee from their homeland in the upper Merrimack Valley and move north to Quebec to seek protection from the French. Four years later Kancamagus returned at the head of a raiding party that fell upon Dover and vengefully killed Waldron.
When the highway was officially named in 1957, some New Hampshire legislators objected on the grounds that the Pennacook Chief had murdered Major Waldron. Representative Robert Monahan of Hanover defended Kancamagus as a faithful man who was provoked to war. "I'll admit that the name may be a bit difficult," he added, "but it's easier to spell than Winnipesaukee and easier to pronounce than Chocorua."
"No gas for the next 32 miles" says the sign at the western end of the Kancamagus Highway in Lincoln, New Hampshire. No gas, no stores, no houses — nothing but a hundred thousand acres of late-winter stillness, and a narrow strip of windswept road lined with birches like a colonnade of bones.
Pronounced Kan-kuh-MOG-us — an appropriate name for a road that opened up one of the last unconquered wilderness areas in New Hampshire, a region that the 1850 state Gazetteer called "unfit for human habitation." The two-lane highway links the valleys of the Merrimack and the Saco rivers, vaulting over Kancamagus Pass at 2,855 feet and winding through some of the most difficult and gorgeous terrain in the state. A panel of travel editors pronounced it one of America's five most scenic highways, and it is a prize attraction during foliage season.
- Nightly Rate -
$219 to $279
per night (two night minimum)

Plus 8.5% NH state lodging tax. (Rates subject to change and may be higher during peak periods.) Rates include a full breakfast and afternoon tea/coffee and snack service.
Room Amenities

Wide planked painted
hardwood flooring

Vintage
Furnishings

Large
Sitting Area

Large Bathroom
with Clawfoot tub

Large TV/DVD
Streaming with
roku

Central Air
Conditioning

Smart Phone
Charging Station

Robes

In-Shower Dispensers with
Citrus Scented Body Gel,
Shampoo, and Conditioner

Hair
Dryer

Free Google
Mesh WiFi

Complimentary
Perrier Water

4 Person
Maximum Capacity
Image Gallery of Room 6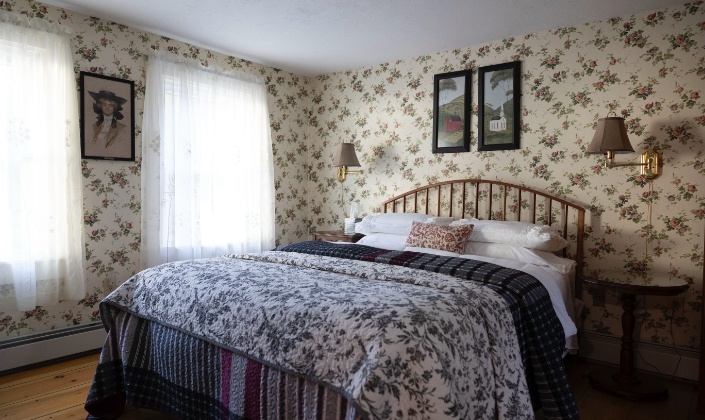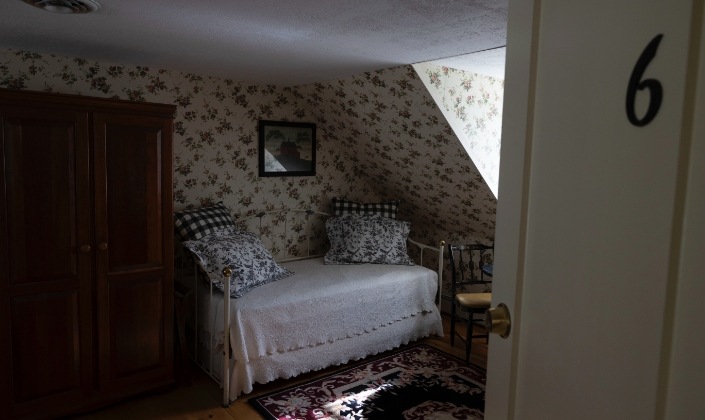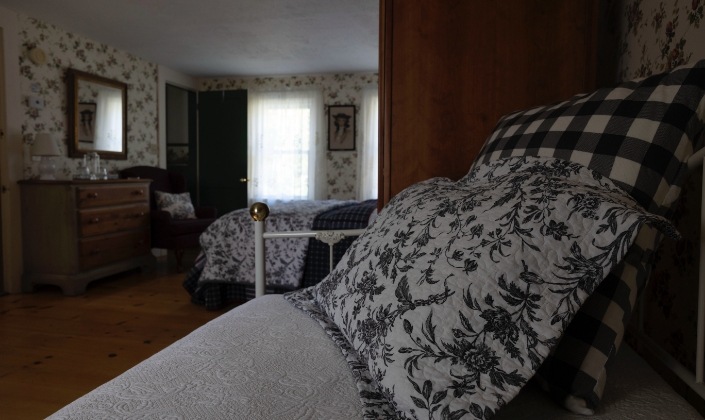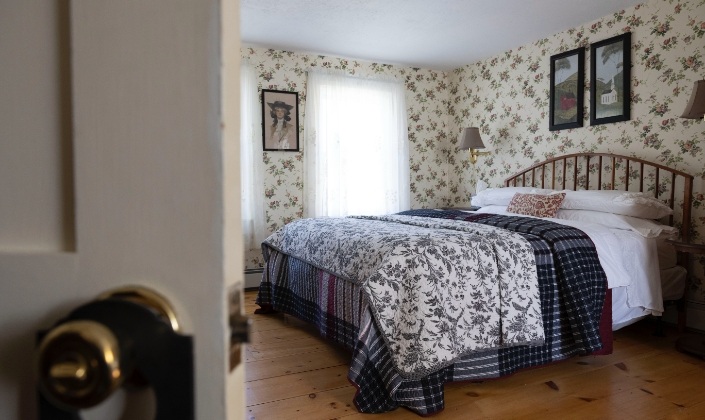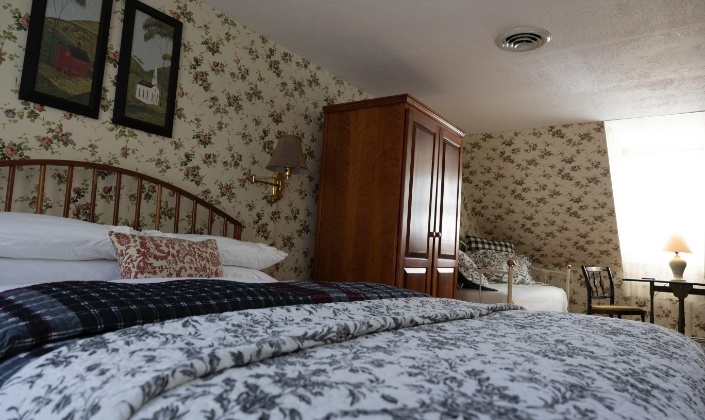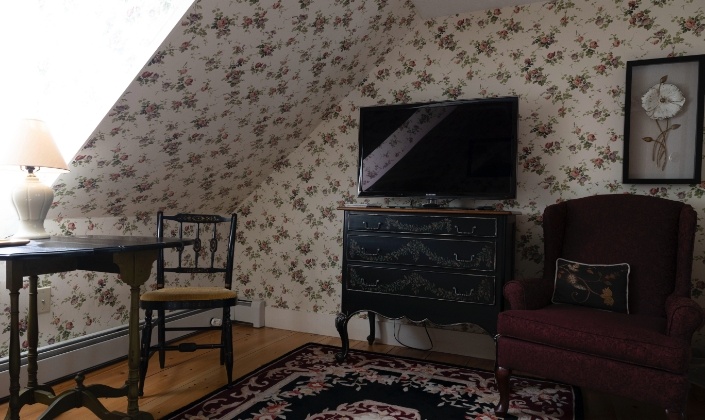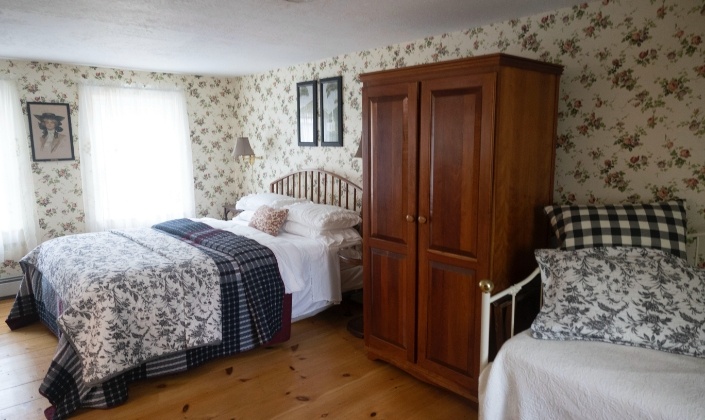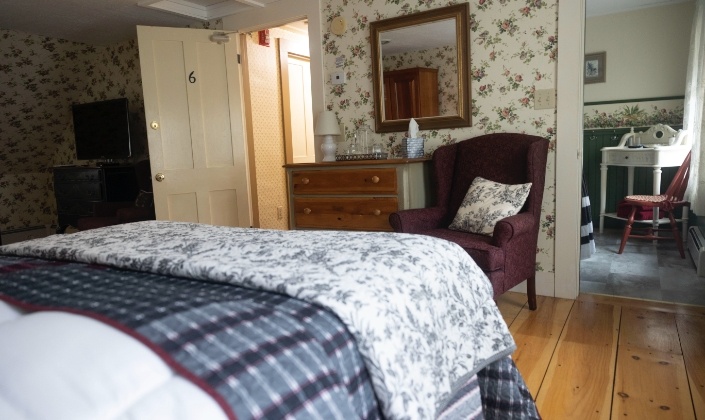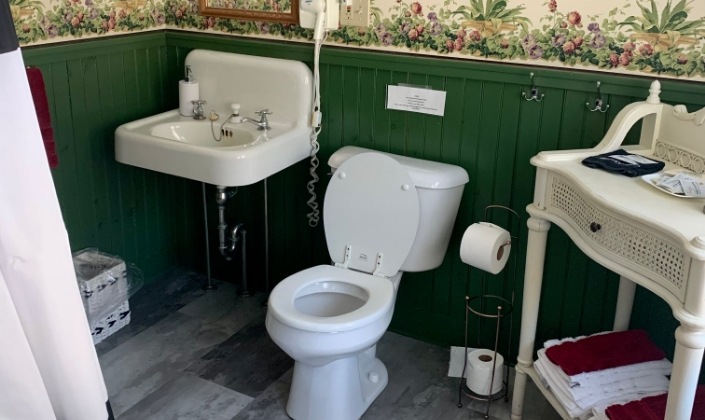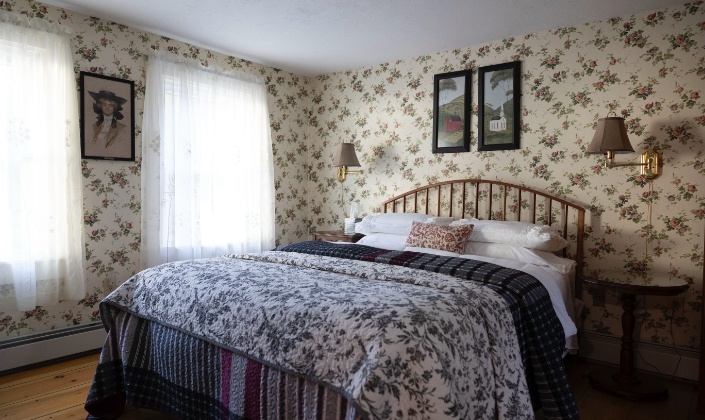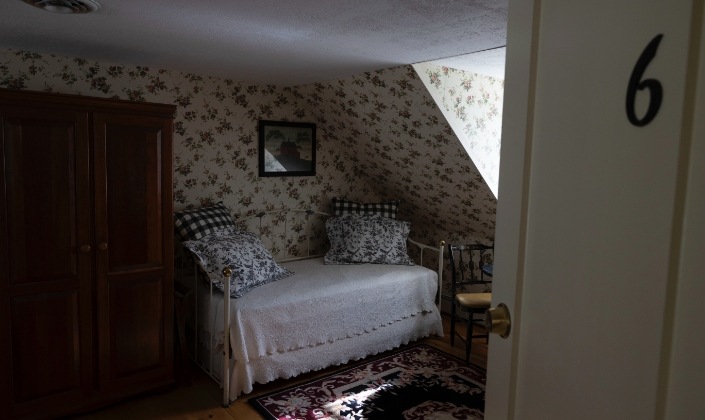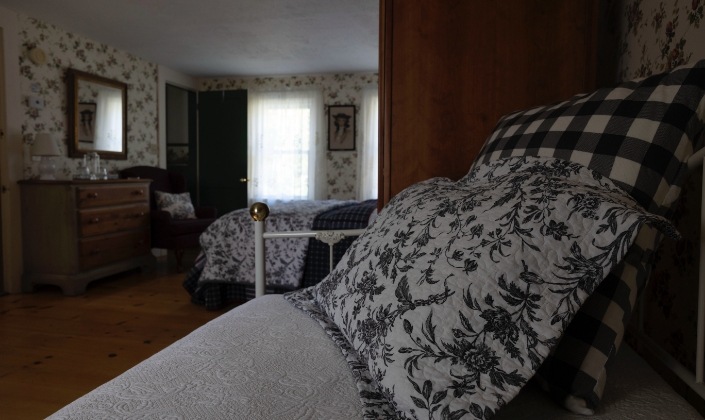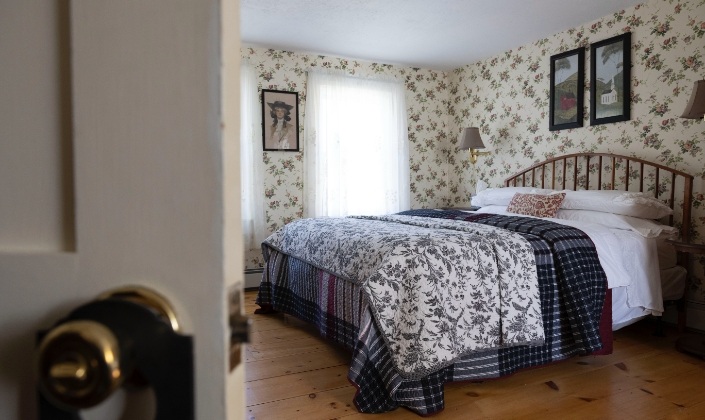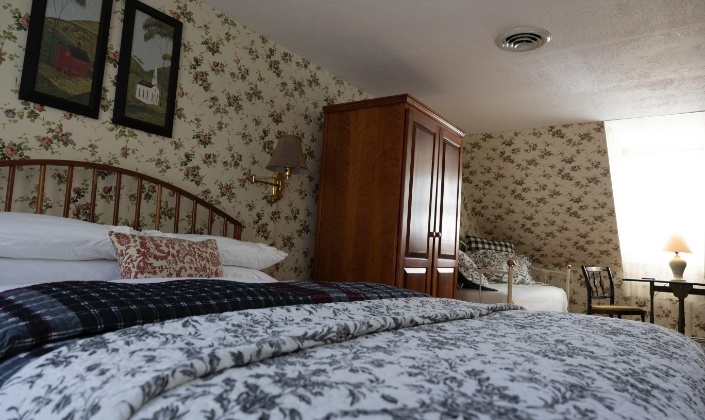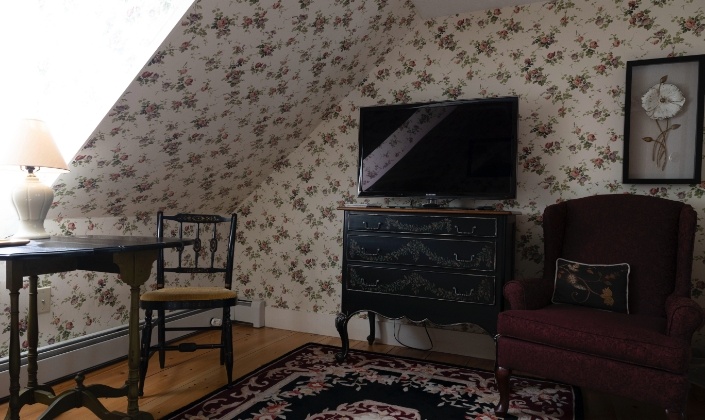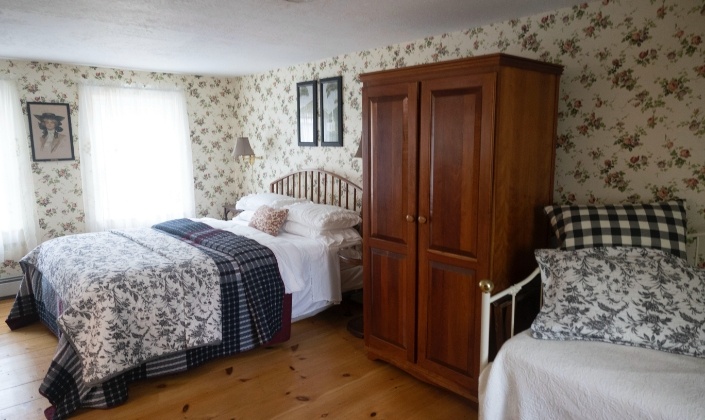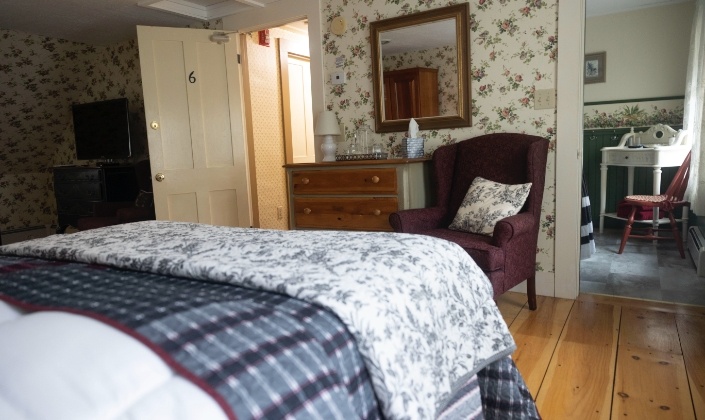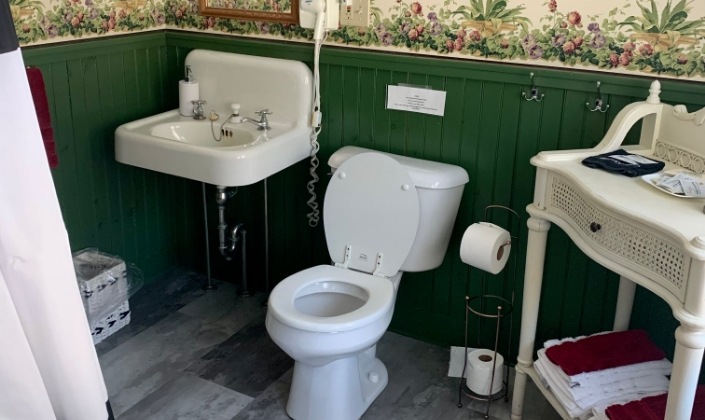 Inn Policies
Before your stay, please review our policies:
Rates - The Buttonwood Inn on Mt Surprise is dedicated to making each guest stay special. If you have special requests or questions regarding this reservation, please contact the Inn. Rates are for single and double occupancy and include our "made from scratch" homemade breakfast and Donna-Marie's baked treats in the late afternoon. Rates are subject to NH rooms and meals taxes.
Check-In/Check Out - Anyone wishing to check-in before 4PM will be charged an extra days stay. Please keep in mind that a small Inn such as the Buttonwood usually has very minimal staff. Hence, time is needed to fully expedite cleaning. If arriving AFTER 9 PM, call to make arrangements for leaving a key for you 603-356-2625. Please keep in mind that with minimal staff of a small Inn it is difficult to be available until late hours when breakfast prep begins at 6AM. CHECK-OUT TIME: 11:00 AM.
Cancellation - A deposit of 50% of the total cost is required upon making your Reservation. The Buttonwood Inn on Mt Surprise is a privately owned small property where every guest reservation is both important and special to us. If your travel plans change and you must cancel your reservation, please call us at least 21 days prior to your arrival date to cancel your reservation. If cancelled beyond 21 days prior to your stay you will receive a full refund less a $45.00 administrative fee. In the unlikely event that you must cancel with less than 21 days notice, shorten your stay or check out early, please understand that we must ask you to take responsibility for your entire reservation. In all instances you may however, apply the deposit to a future booking. Unlike some hotels, we do not "overbook" our rooms. We hold guest reservations for the dates our guest's request. Thus, we need to refuse other potential guests. As a result, if a guest leaves earlier than their reservation calls for or they do not show up for their reservation, they will be charged for the entire reservation. Gift Certificates are non-refundable. Please keep in mind some on-line booking agencies require you to cancel through their site and you are subject to their payment and deposit policies. All Rates are for Double Occupancy Only. Additional guests are NOT accepted with the exception of Rooms 6,7,9, and 10 where Occupancy is 3 persons only. An additional fee of $55.00 for each extra person per night will be added (including children of all ages).
Parking - Parking is available in our large parking lot. There is an unloading and loading zone in front of the porch upon arrival and departure.
Minimum Night Stays - Two-night stays are required for all reservations.
Meals - At our Bed and Breakfast, we serve a full gourmet breakfast, either savory one day or sweet the next from 8:00 to 9:00 am. We can provide a travel breakfast for guests who have to leave the inn before breakfast, as long as we are informed at least 24 hours in advance. Donna-Marie's homemade baked treats are served around 4:00 pm each day.
Children - We welcome children of all ages. There will be an additional charge of $55 per night, per room, per child.
Pets - Even though we have had rescue dogs of our own, we do not accept pets at our inn. However, if you plan to travel with your pet, you can reserve an overnight stay at Albany Pet Care located in Albany, NH about 20 minutes from our inn. We have left our dog there on many occasions when we travel and he is well cared for and contentedly happy when we pick him up upon our return. Please go to the Albany Pet Care website for more information on overnight stays and day care.
Smoking/Vaping - The Buttonwood offers a smoke-free environment in the interior of the inn. Please ask us where the designated area is outside of the inn. For safety reasons and out of courtesy to other guests, smoking is not allowed in the inn. If any of the contents of a room have been contaminated or damaged due to smoking, a $150 cleaning/repair fee will be charged.