Buttonwood Inn on Mt Surprise Room 9 – North Conway, NH
Mount Chocorua Room


This is a Deluxe Room with a Queen bed. The vintage room décor includes a custom-designed Queen size bed headboard, yellow striped wallpaper, and antique wide plank floors. This large room has a small sitting area with a small portable rollaway bed can be added for a child if needed and overlooks the Merriman State Forrest. Each additional person in the room is $55.00 per night plus tax.
History of the Landmark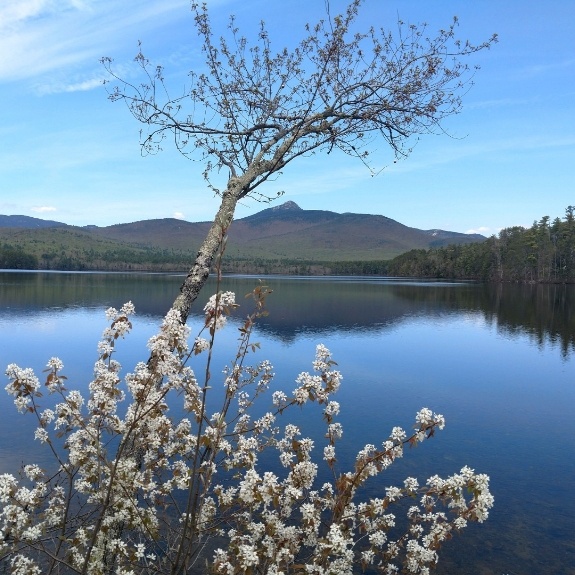 Mount Chocorua is a 3,490 ft mountain in the White Mountains of New Hampshire. Although the mountain is not outstanding for its elevation, it is very rugged and has excellent views of the surrounding lakes, mountains, and forests. Mount Chocorua is the most hiked and photographed of the White Mountain Range. Its rocky summit is a result of a succession of wildfires from the early 19th to 20 centuries. Mount Chocorua is long said to bear the name of Chief Chocorua, a Native American who, according to legends, lived with his young son in the area that is now Tamworth, New Hampshire, in the early 1700s.
Some versions of the legend say that Chocorua stayed behind in Tamworth after most of his fellow Pequawkets had moved north to Canada to avoid conflict with the white man following the 1725 Battle of Lovewell's Pond in nearby Fryeburg, Maine.
The most common story is that Chocorua was particularly friendly with a settler named Cornelius Campbell and his family. One day Chocorua was called away for tribal business and asked if the Campbells could watch his young son Tuamba while he was gone. While Chocorua was gone, the boy found and drank a bottle of poison that Cornelius Campbell had made to eliminate troublesome foxes, and Chocorua returned to find his son had died. Chief Chocorua, distraught with grief, pledged revenge on the family. Shortly thereafter, Mr. Campbell returned home one afternoon to find his wife Caroline and children had been slain.
Campbell suspected Chocorua and pursued him up the mountain that today bears his name. Chocorua climbed atop the highest boulder on the summit and, knowing that death was at hand, raised his arms to the sky and shouted:
A curse upon ye, white men! May the Great Spirit curse ye when he speaks in the clouds, and his words are fire! Chocorua had a son—and ye killed him while the sky looked bright! Lightning blast your crops! Wind and fire destroy your dwellings! The Evil Spirit breathe death upon your cattle! Your graves lie in the war-path of the Indian! Panthers howl, and wolves fatten over your bones! Chocorua goes to the Great Spirit—his curse stays with the white men!"
Chocorua then leapt off the mountain and fell to his death on the rocks below.
- Nightly Rate -
$169 to $269
per night (two night minimum)
(an additional person in the room is $55.00 per night plus tax.)

Plus 8.5% NH state lodging tax. (Rates subject to change and may be higher during peak periods.) Rates include a full breakfast and afternoon tea/coffee and snack service.
Room Amenities

Small portable
rollaway bed

Vintage
Furnishings

Small
Sitting Area

Large Ensuite
Bathroom with
tub and shower

Large TV/DVD
Streaming with
roku

Central Air
Conditioning

Ceiling
Fan

Smart Phone
Charging Station

Robes

In-Shower Dispensers with
Citrus Scented Body Gel,
Shampoo, and Conditioner

Hair
Dryer

Free Google
Mesh WiFi

Complimentary
Perrier Water

2 adults & 1 child
Maximum Capacity
Image Gallery of Room 9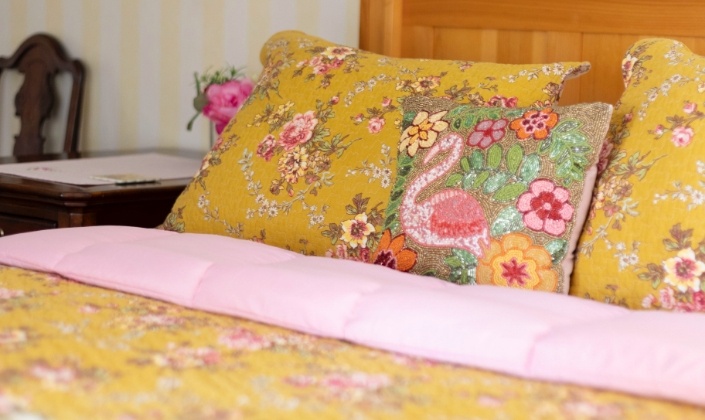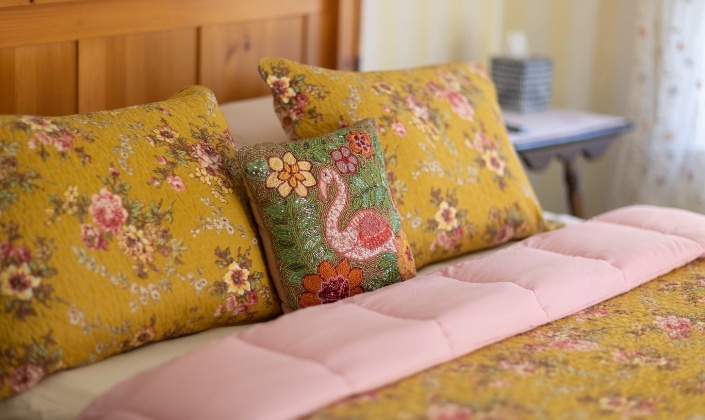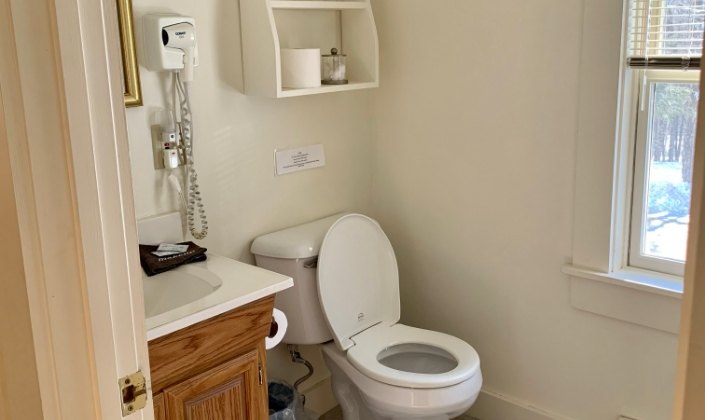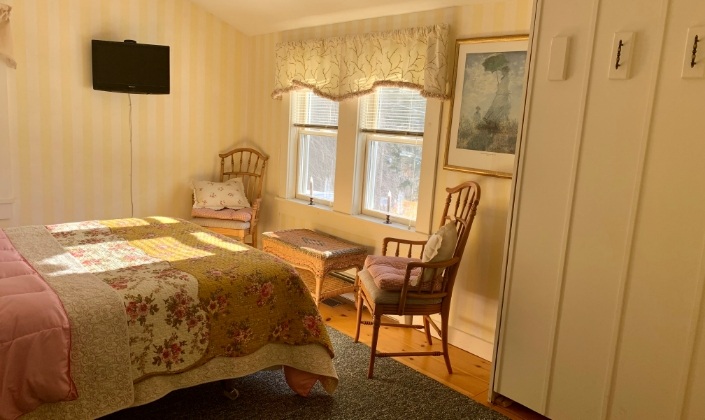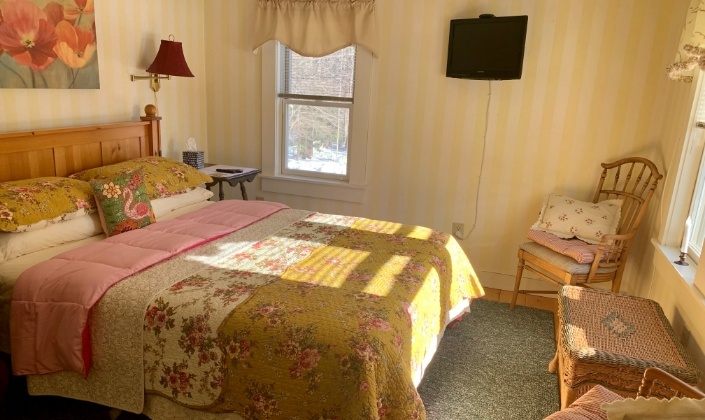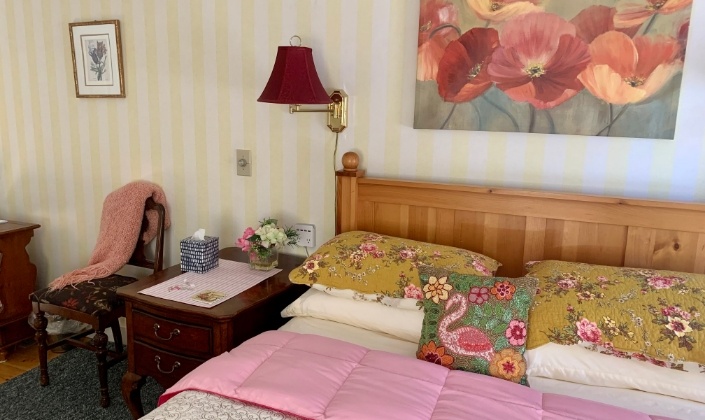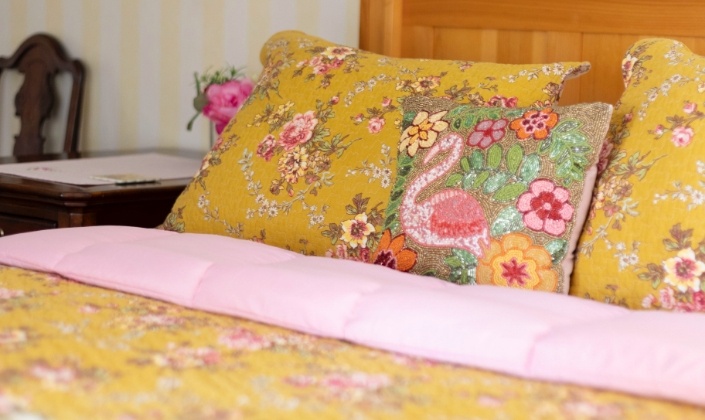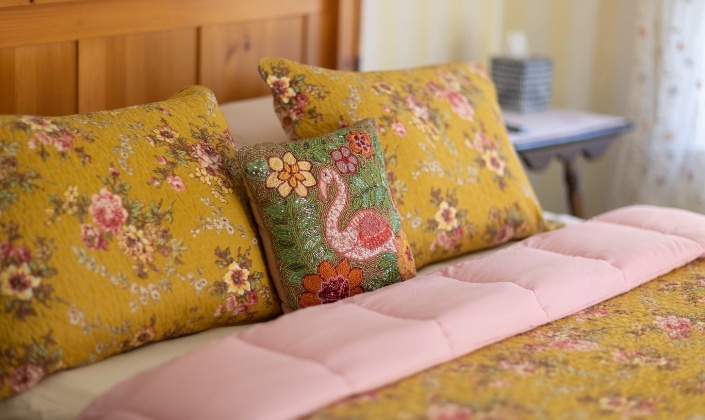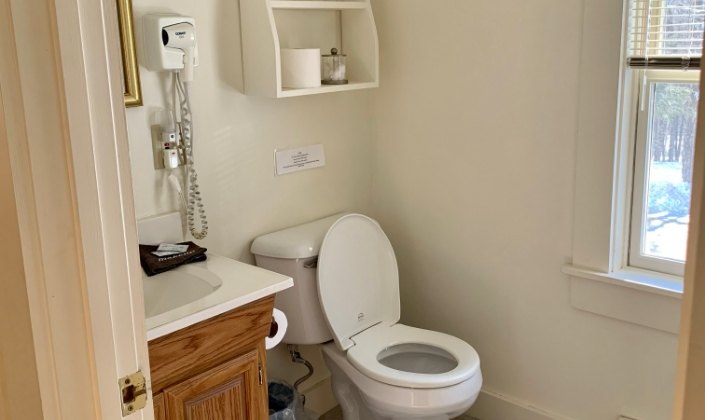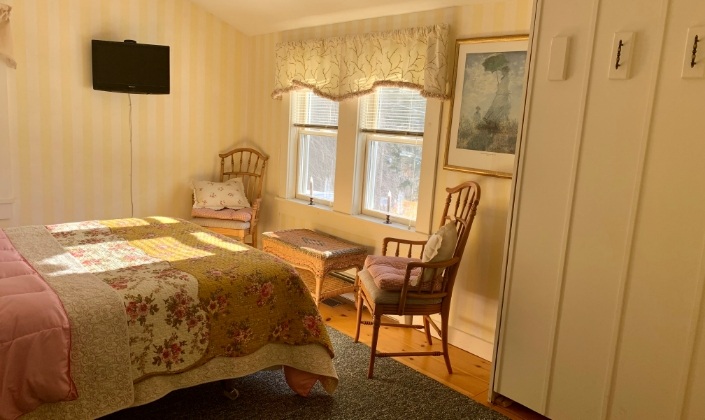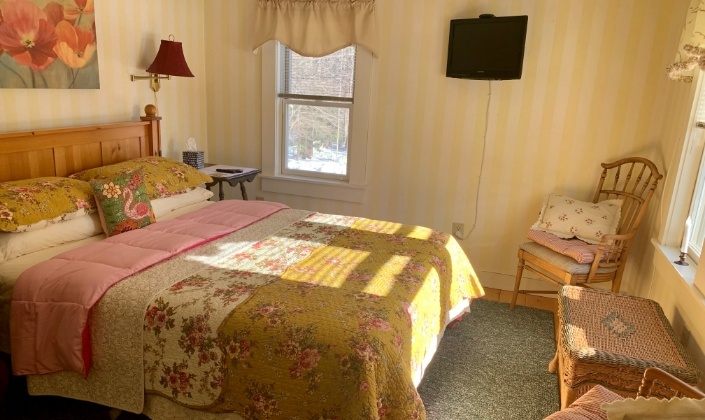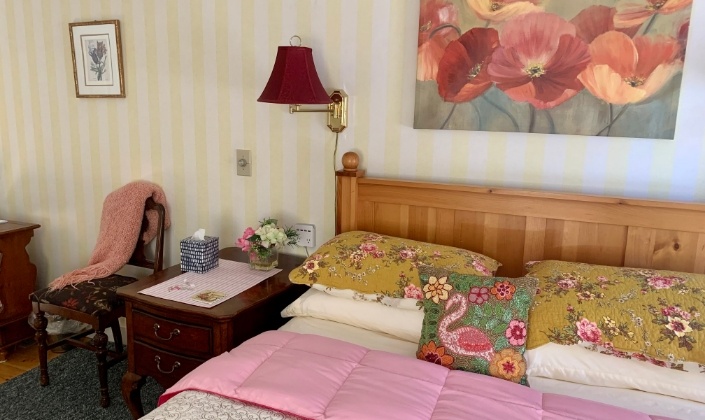 Inn Policies
Before your stay, please review our policies:
Rates - The Buttonwood Inn on Mt Surprise is dedicated to making each guest stay special. If you have special requests or questions regarding this reservation, please contact the Inn. Rates are for single and double occupancy and include our "made from scratch" homemade breakfast and Donna-Marie's baked treats in the late afternoon. Rates are subject to NH rooms and meals taxes.
Check-In/Check Out - Anyone wishing to check-in before 4PM will be charged an extra days stay. Please keep in mind that a small Inn such as the Buttonwood usually has very minimal staff. Hence, time is needed to fully expedite cleaning. If arriving AFTER 9 PM, call to make arrangements for leaving a key for you 603-356-2625. Please keep in mind that with minimal staff of a small Inn it is difficult to be available until late hours when breakfast prep begins at 6AM. CHECK-OUT TIME: 11:00 AM.
Cancellation - A deposit of 50% of the total cost is required upon making your Reservation. The Buttonwood Inn on Mt Surprise is a privately owned small property where every guest reservation is both important and special to us. If your travel plans change and you must cancel your reservation, please call us at least 21 days prior to your arrival date to cancel your reservation. If cancelled beyond 21 days prior to your stay you will receive a full refund less a $45.00 administrative fee. In the unlikely event that you must cancel with less than 21 days notice, shorten your stay or check out early, please understand that we must ask you to take responsibility for your entire reservation. In all instances you may however, apply the deposit to a future booking. Unlike some hotels, we do not "overbook" our rooms. We hold guest reservations for the dates our guest's request. Thus, we need to refuse other potential guests. As a result, if a guest leaves earlier than their reservation calls for or they do not show up for their reservation, they will be charged for the entire reservation. Gift Certificates are non-refundable. Please keep in mind some on-line booking agencies require you to cancel through their site and you are subject to their payment and deposit policies. All Rates are for Double Occupancy Only. Additional guests are NOT accepted with the exception of Rooms 6,7,9, and 10 where Occupancy is 3 persons only. An additional fee of $55.00 for each extra person per night will be added (including children of all ages).
Parking - Parking is available in our large parking lot. There is an unloading and loading zone in front of the porch upon arrival and departure.
Minimum Night Stays - Two-night stays are required for all reservations.
Meals - At our Bed and Breakfast, we serve a full gourmet breakfast, either savory one day or sweet the next from 8:00 to 9:00 am. We can provide a travel breakfast for guests who have to leave the inn before breakfast, as long as we are informed at least 24 hours in advance. Donna-Marie's homemade baked treats are served around 4:00 pm each day.
Children - We welcome children of all ages. There will be an additional charge of $55 per night, per room, per child.
Pets - Even though we have had rescue dogs of our own, we do not accept pets at our inn. However, if you plan to travel with your pet, you can reserve an overnight stay at Albany Pet Care located in Albany, NH about 20 minutes from our inn. We have left our dog there on many occasions when we travel and he is well cared for and contentedly happy when we pick him up upon our return. Please go to the Albany Pet Care website for more information on overnight stays and day care.
Smoking/Vaping - The Buttonwood offers a smoke-free environment in the interior of the inn. Please ask us where the designated area is outside of the inn. For safety reasons and out of courtesy to other guests, smoking is not allowed in the inn. If any of the contents of a room have been contaminated or damaged due to smoking, a $150 cleaning/repair fee will be charged.