Buttonwood Inn on Mt Surprise Room 8 – North Conway, NH
Mount Lafayette Room
This is a Deluxe Room with a Queen bed. The vintage furnishings include an old-fashioned metal bed frame, wallpaper, wide plank wood floor, and dresser. This large room has a small sitting area with a loveseat perfect for snuggling up and relaxing after a full day of exploring North Conway. Enjoy the views of the Inn's perennial gardens and Merriman State Forrest.


History of the Landmark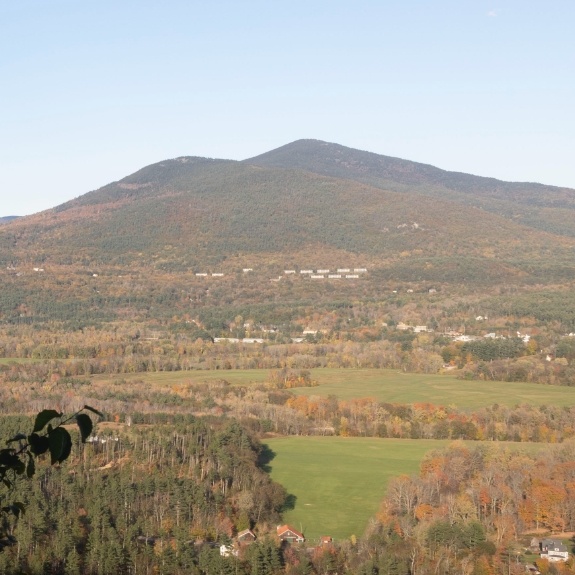 The mountain is named to honor General Lafayette, a French military hero who fought with and significantly aided the Continental Army during the American Revolutionary War.
Called to the city of Metz for militia duty, Lafayette attended a dinner with the Duke of Gloucester, the younger brother of British King George III. The Duke explained how the colonists had organized the Continental Army under the leadership of General George Washington. Lafayette would always remember this dinner as the turning point of his life. "My heart was enlisted," he later confessed in his memoirs, "and I thought only of joining my colors to those of the revolutionaries."
Lafayette studied the ideals of the American Revolution and planned to enlist in the Continental Army. Silas Deane was a representative of the Continental Congress sent to France to recruit officers. Even though Lafayette was only nineteen and had no experience in war, Deane offered him a commission. When Lafayette arrived in Philadelphia, Congressmen James Lovell of Massachusetts refused to receive him, saying that Americans were tired of ambitious Frenchmen seeking glory. But upon realizing how wealthy and well-connected Lafayette actually was, and recognizing his sincere support for the American cause, Lovell recommended Lafayette's appointment as a Major-General.
Lafayette proceeded to General Washington's camp along Brandywine Creek south of Philadelphia in September 1777. Washington was immediately taken with Lafayette, especially when the Marquis explained, "I am here to learn, not to teach."
Lafayette became a valued member of Washington's close-knit military family. Lafayette in turn came to admire Washington's leadership more each day, especially during the winter at Valley Forge.
Lafayette returned to France as a national hero. Three years later on a tour of the United States he visited Washington at Mount Vernon. Lafayette remembered, "Our meeting was very tender, and our satisfaction was mutual." He discussed his many concerns about the American nation. Like Washington, he favored the creation of a strong central government. But unlike Washington he recommended an immediate end to slavery. Back in France, Lafayette helped launch the French Revolution in 1789. He served in the National Assembly and drafted the Declaration of the Rights of Man. He proudly sent the key to the Bastille to Washington, who was serving as the President of the United States.
Lafayette fled from France when the revolution turned violent. He was imprisoned at Olmütz by the Austrians who considered him a dangerous radical. Lafayette's fortune was confiscated by the French government and many of his relatives died by the guillotine. He was finally set free and settled at La Grange, an estate near Paris nicknamed the Mount Vernon of France.
One of Lafayette's greatest joys in his later years came in 1824 when he made a triumphant tour of the United States. At Mount Vernon he went alone to visit the grave of George Washington, returning to his carriage with tears in his eyes. Lafayette remained a defender of democratic ideals until his death in 1834.
- Nightly Rate -
$169 to $269
per night (two night minimum)
(an additional person in the room is $55.00 per night plus tax.)

Plus 8.5% NH state lodging tax. (Rates subject to change and may be higher during peak periods.) Rates include a full breakfast and afternoon tea/coffee and snack service.
Room Amenities

Vintage
Furnishings

Small
Sitting Area

Large Ensuite
Bathroom with
tub and shower

Large TV/DVD
Streaming with
roku

Central Air
Conditioning

Ceiling
Fan

Smart Phone
Charging Station

Robes

In-Shower Dispensers with
Citrus Scented Body Gel,
Shampoo, and Conditioner

Hair
Dryer

Free Google
Mesh WiFi

Complimentary
Perrier Water

2 Person
Maximum Capacity
Image Gallery of Room 8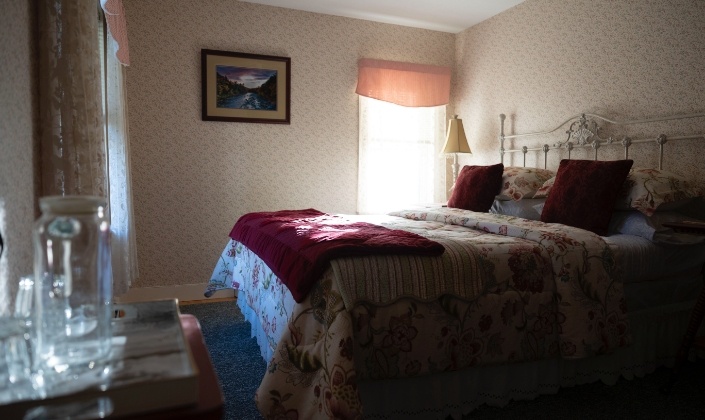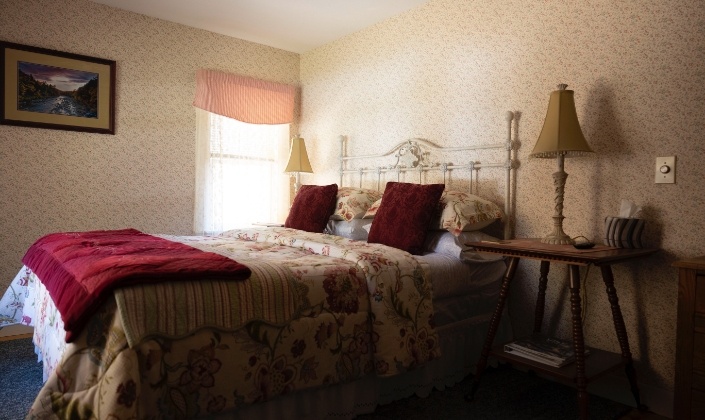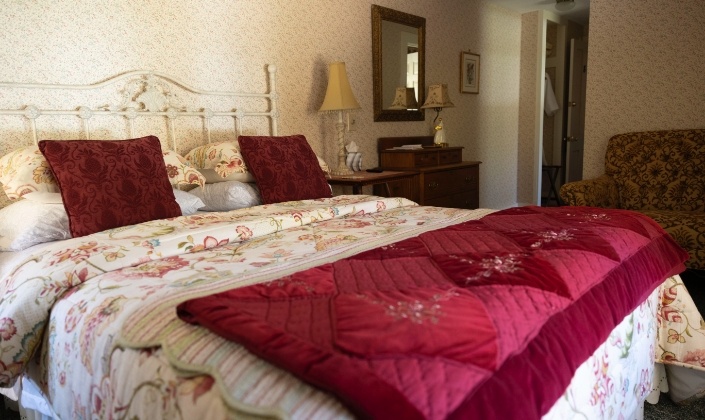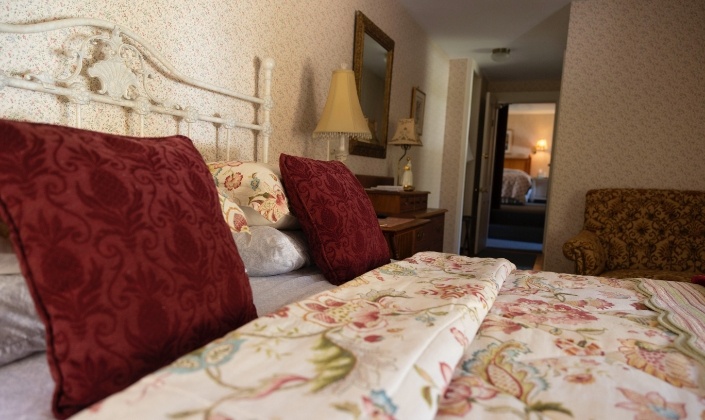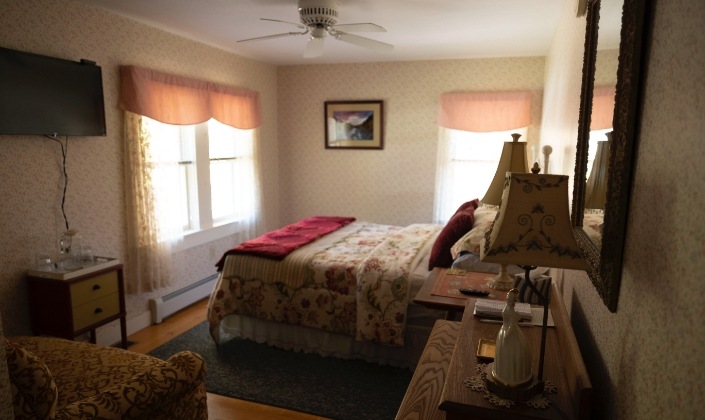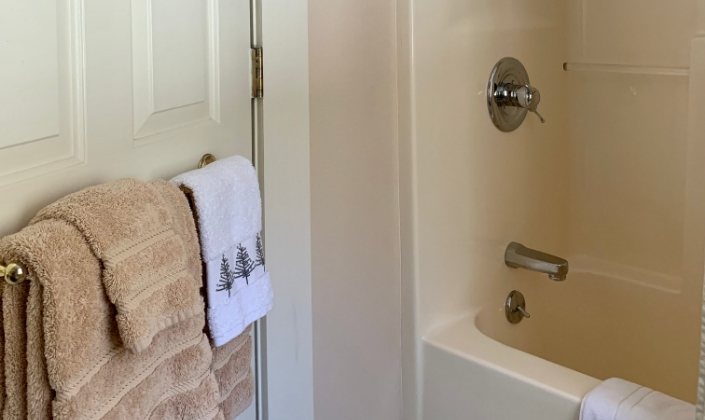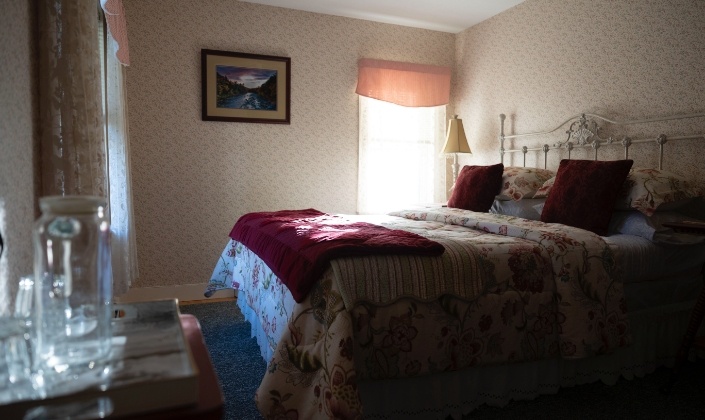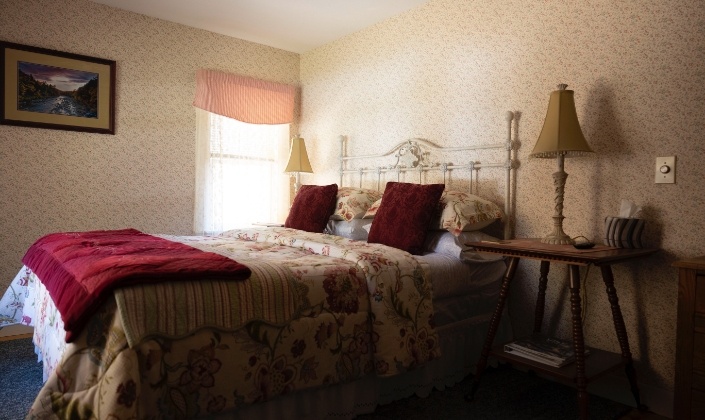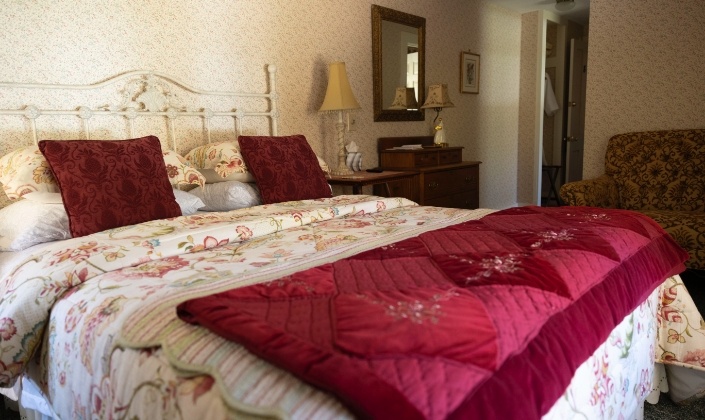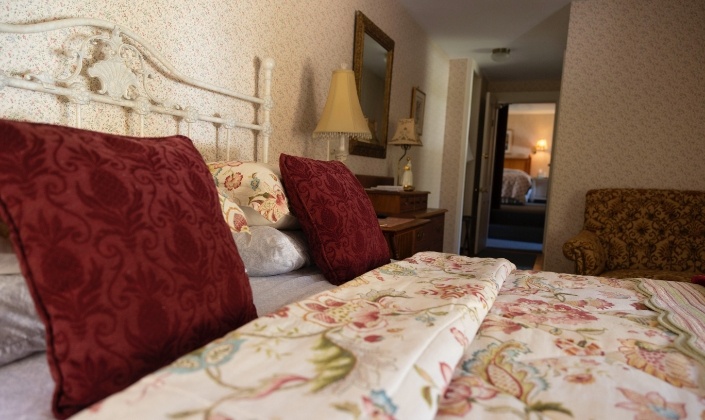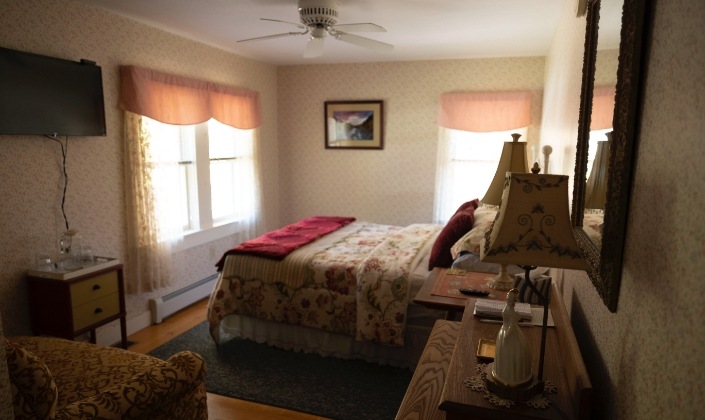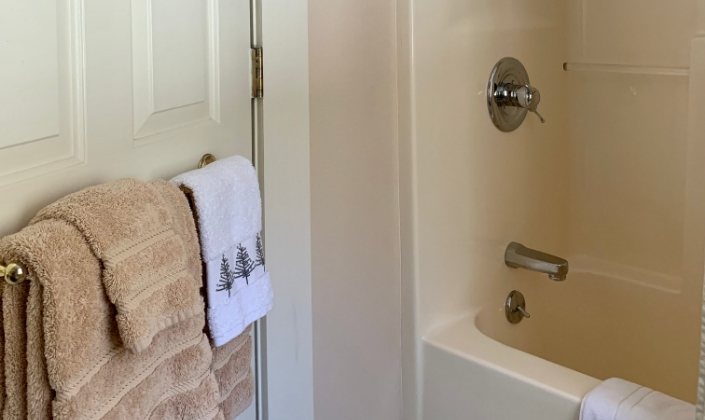 Inn Policies
Before your stay, please review our policies:
Rates - The Buttonwood Inn on Mt Surprise is dedicated to making each guest stay special. If you have special requests or questions regarding this reservation, please contact the Inn. Rates are for single and double occupancy and include our "made from scratch" homemade breakfast and Donna-Marie's baked treats in the late afternoon. Rates are subject to NH rooms and meals taxes.
Check-In/Check Out - Anyone wishing to check-in before 4PM will be charged an extra days stay. Please keep in mind that a small Inn such as the Buttonwood usually has very minimal staff. Hence, time is needed to fully expedite cleaning. If arriving AFTER 9 PM, call to make arrangements for leaving a key for you 603-356-2625. Please keep in mind that with minimal staff of a small Inn it is difficult to be available until late hours when breakfast prep begins at 6AM. CHECK-OUT TIME: 11:00 AM.
Cancellation - A deposit of 50% of the total cost is required upon making your Reservation. The Buttonwood Inn on Mt Surprise is a privately owned small property where every guest reservation is both important and special to us. If your travel plans change and you must cancel your reservation, please call us at least 21 days prior to your arrival date to cancel your reservation. If cancelled beyond 21 days prior to your stay you will receive a full refund less a $45.00 administrative fee. In the unlikely event that you must cancel with less than 21 days notice, shorten your stay or check out early, please understand that we must ask you to take responsibility for your entire reservation. In all instances you may however, apply the deposit to a future booking. Unlike some hotels, we do not "overbook" our rooms. We hold guest reservations for the dates our guest's request. Thus, we need to refuse other potential guests. As a result, if a guest leaves earlier than their reservation calls for or they do not show up for their reservation, they will be charged for the entire reservation. Gift Certificates are non-refundable. Please keep in mind some on-line booking agencies require you to cancel through their site and you are subject to their payment and deposit policies. All Rates are for Double Occupancy Only. Additional guests are NOT accepted with the exception of Rooms 6,7,9, and 10 where Occupancy is 3 persons only. An additional fee of $55.00 for each extra person per night will be added (including children of all ages).
Parking - Parking is available in our large parking lot. There is an unloading and loading zone in front of the porch upon arrival and departure.
Minimum Night Stays - Two-night stays are required for all reservations.
Meals - At our Bed and Breakfast, we serve a full gourmet breakfast, either savory one day or sweet the next from 8:00 to 9:00 am. We can provide a travel breakfast for guests who have to leave the inn before breakfast, as long as we are informed at least 24 hours in advance. Donna-Marie's homemade baked treats are served around 4:00 pm each day.
Children - We welcome children of all ages. There will be an additional charge of $55 per night, per room, per child.
Pets - Even though we have had rescue dogs of our own, we do not accept pets at our inn. However, if you plan to travel with your pet, you can reserve an overnight stay at Albany Pet Care located in Albany, NH about 20 minutes from our inn. We have left our dog there on many occasions when we travel and he is well cared for and contentedly happy when we pick him up upon our return. Please go to the Albany Pet Care website for more information on overnight stays and day care.
Smoking/Vaping - The Buttonwood offers a smoke-free environment in the interior of the inn. Please ask us where the designated area is outside of the inn. For safety reasons and out of courtesy to other guests, smoking is not allowed in the inn. If any of the contents of a room have been contaminated or damaged due to smoking, a $150 cleaning/repair fee will be charged.