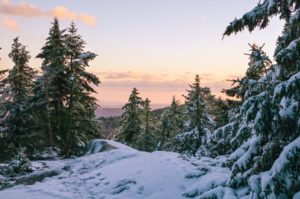 If you're a fan of winter, you'll find no shortage of fun things to do in the North Conway area of New Hampshire! In fact, some of the best things to do in all of New Hampshire take place during the winter months—and that doesn't just include skiing; there are plenty of other fun activities to partake in, and all are possible once you book your stay with us at the Buttonwood Inn on Mt. Pleasant! Keep reading to learn more about some of the best ways to spend your winter here.
1. Sleigh Rides
Sleigh rides are actually one of our favorite things to do in the winter in New Hampshire, and luckily, it's also one of the easiest things to do with little equipment or experience required! Just bundle up under a layer of blankets, sit back in a cozy seat, and watch the scenery fly by! There are several nearby locations that offer access to sleigh ride trails; you're sure to experience a true winter wonderland atmosphere!
2. Winter Ziplining
If you'd prefer to experience a birds-eye view of all the epic winter scenery, you'll love winter ziplining—it's even better than summer ziplining! There are several local groups close to the Buttonwood Inn that offer ziplining tours across several beautiful forests filled with snow-coated Evergreen trees.
3. Ice Fishing on a New Hampshire Lake
Considering that we have over 1,000 lakes here in the Granite State, you're certain to find the perfect spot to catch some fish of your own. Just be sure you're ready—ice fishing does require certain equipment and can be a little dangerous if you're not prepared, so be sure to stop by a tackle shop to pick up everything you need and read New Hampshire's ice fishing safety guide before heading out!
4. Skiing & Snowboarding
Okay, we couldn't help but include this one on this list. Did you know that New Hampshire has some of the best skiing and snowboarding on the entire East Coast? Whether you're all about skiing or you're a fan of carving up fresh powder on your snowboard, you're certain to find plenty of excellent ski mountains all throughout the region. In fact, the White Mountains are also home to some of the top ski resorts in the whole state!
5. Book a Cozy Cabin or Bed & Breakfast
One of the best ways to experience an authentic New Hampshire winter is by staying at a rustic, one-of-a-kind cabin, inn, or bed-and-breakfast—this is part of the region's charm! Is there anything better than curling up on a snowy day, dressed in flannel, reading a book by a cozy fireplace? Built in the 1820's, the Buttonwood Inn on Mt. Pleasant retains the perfect, pleasant atmosphere for you to spend your winter vacation.
About the Buttonwood Inn
Nestled comfortably in the White Mountains of New Hampshire, the Buttonwood Inn on Mt. Surprise is the perfect spot for your cozy winter getaway! Occupying six beautiful acres and housing several ornately decorated rooms and thoughtful amenities, you're sure to enjoy every moment of your stay. For additional information or to book a room, feel free to reach out online or over the phone for assistance: (603) 810-0642.