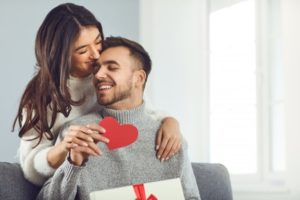 It's the start of a new year, and you might already have your sights set on planning a romantic getaway for the upcoming Valentine's Day. But if you truly want to impress that special someone in your life and show them that you care, why not plan a romantic retreat for yourselves at a charming, cozy bed & breakfast such as the Buttonwood Inn on Mt. Surprise? Here's a little more about what we offer and how we can help you and your loved one to enjoy your Valentine's Day to the fullest.
Experience a Romantic Valentine's Stay
Romance and Valentine's Day go hand-in-hand, and several of us have someone special in our life that we enjoy spoiling and making smile. There's no better romantic gesture than booking a stay for a quiet, intimate retreat nestled away in the White Mountains! With several beautifully-decorated and furnished rooms to choose from, as well as countless thoughtful amenities to ensure you're comfortable at all times, you'll feel cozy and pampered for virtually every moment of your stay. You can stay in and enjoy the quiet scenery from the comfort of a roaring fireplace, or you can go out and behold the natural beauty that the area has to offer. Whether you have a special occasion coming up that's worth celebrating, or simply want to show someone that they mean a lot to you, we'll make sure that your visit is extraordinary.
Indulge in a Gourmet Chocolate Tour
If you're a romantic as well as a connoisseur of chocolate, then you'll feel right at home if you book your stay during the Mt. Washington Valley Annual Chocolate Festival, which was chosen as one of the "11 most delicious chocolate tours around the world!" Our inn sits just five minutes away from downtown North Conway Village, which hosts the annual skiing and chocolate festival at the end of every February that draws an impressively large crowd. During the celebration, you can cross-country ski or snowshoe from inn to inn, replenishing your energy with all sorts of delicious and complimentary chocolates! Let the Buttonwood Inn serve as your homebase while you and your loved one enjoy spectacular scenery, warm hospitality, and tasty gourmet treats!
There's no shortage of exciting things to do when you're staying at the Buttonwood Inn; it's the perfect place to book the ultimate Valentine's Day getaway this year!
About the Buttonwood Inn
If you're looking for the perfect spot to get away and enjoy yourself, regardless of the occasion, the Buttonwood Inn on Mt. Surprise can easily accommodate you! Occupying six beautiful acres and housing several uniquely-ornate rooms, you're certain to enjoy your stay. If you have questions about the Buttonwood Inn or would like to book your stay, feel free to reach out by website or phone for assistance: (603) 810-0642.