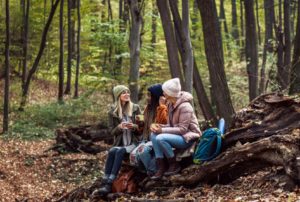 Nestled in the quiet White Mountains of New Hampshire, the Buttonwood Inn on Mt. Surprise is the perfect spot to relax and enjoy the incredible nature and wildlife that the charming North Conway area has to offer. That said, there's no better way to get the most out of your stay than by experiencing North Conway as a local! Here are some fun and exciting upcoming events that you should check out while you're enjoying your holiday.
Weekly Naturalist-Led Hikes
With so much nature to experience around North Conway, embarking on a naturalist-led hike is a great way to take in several majestic sights! Join the Tin Mountain Conservation Center for weekly hikes with highlights including the summit of Tin Mountain, a local tin mine and historic homestead, and a beautiful mountain pond.
Axe Training Workshop
If you're a hiking fanatic and have previously found yourself in a situation where you really wished you had an axe to make things easier, this is the workshop for you! Led by Appalachian Mountain Club's Director of Trails Alex DeLucia, this one-day workshop serves as a comprehensive crash course that'll teach you everything you need to know about safely wielding an axe while you're out hiking in the White Mountain National Forest.
Kilkenny Ridge Race
If you're an avid and experienced runner, the Kilkenny Ridge Race on September 17th might pique your interest! Be warned though, this course is wild and feels very remote. But if you're up for the challenge, there is a 25-mile or 50-mile race that you can participate in that takes you through a series of beautifully rugged trails. If you're simply a fan of the sport and there to cheer on others, there's a nice recreational area by the pond with a fire and some music.
Annual Fall Festival
The Fall Festival on September 24th is certain to be a good time for the whole family. Experience the best of autumn in the White Mountains with several fun events and activities including a candy pumpkin guessing contest with prizes, pumpkin painting, live music, a hay maze, free apples and cider, and much more. If there was ever an essential event to attend in the area, this is the one!
If you're ready to get out and experience North Conway like a local, don't hesitate to check out one of these events this upcoming fall!
About the Buttonwood Inn on Mt. Surprise
The Buttonwood Inn on Mt. Surprise is pleased to offer guests a comfortable and enjoyable stay at their peaceful, secluded stead located just two miles from North Conway Village. Occupying six beautiful acres, the Inn houses ten individually decorated rooms, two large social areas, and several thoughtful amenities to improve the quality of your vacation. If you have any questions or would like to book a room, feel free to reach out online or over the phone: (603) 356-2625.