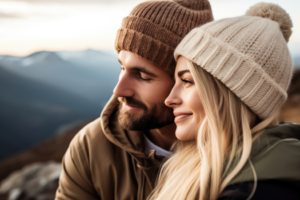 If you have someone special in your life, you're probably constantly thinking about ways you can "wow" them and be sure that they know just how much you truly appreciate them. Fortunately, you'll find no shortage of things to do with your partner in North Conway, NH! The area is renowned for its charm, serenity, and scenic nature—making it one of the best spots out there for the ultimate romantic getaway, especially if you're booking your stay at a cozy bed-and-breakfast! Continue reading below to learn more about a few great ways you and your loved one can spend your time in the area.
#1. Enjoy a Waterfall Tour
The North Conway area is ripe year-round with a wide variety of outdoor adventures that are perfect for you and your significant other—and what better way to appreciate the beauty of the region than a waterfall tour? A couple of must-see locations include Jackson Falls, the perfect spot for a quick hike and romantic picnic, and Sabbaday Falls, known for its impressively breathtaking 45-foot drop.
#2. Take a Scenic Drive
Also known as "the Knac," the infamous Kancamagus Highway stretches 35 miles across New Hampshire, and this incredible drive has been designated as an American Scenic Byway for its notable beauty coupled with its rich history. Hop in the car, turn up the radio, and enjoy the charming ride with your loved one as you cut through the gorgeous White Mountain National Forest.
#3. Hop in a Canoe
If you've ever wanted to recreate the memorable canoe scene from The Notebook, you'll have the chance to if you and your partner decide to go on a canoe trip while visiting. There are few things in life as peaceful as cruising down the tranquil Saco River with the breathtaking backdrop of the White Mountains behind you!
#4. Visit a Brewery
If you and your S.O. are craft beer fans, there's no shortage of local breweries and pubs to visit. Be sure to block off an entire afternoon or evening so that you can do a little brewery-hopping—you'll get the chance to sample some of the best microbrews and craft beers that New England has to offer!
#5. Plan a Romantic Dinner
For many of us, food is our love language—so you'd be wise to include at least one romantic dinner during your stay in North Conway. With so many cozy inns, restaurants, and bed-and-breakfasts such as the Buttonwood Inn in the area, you're certain to experience an authentic fine dining experience no matter what you're in the mood for.
No matter how you and your partner decide to spend your time while visiting North Conway, there's certain to be no shortage of natural beauty, fine dining, and other wonderful attractions that'll captivate both of you and have you planning to come back for future romantic getaways!
About The Buttonwood Inn
Nestled in the White Mountains of New Hampshire, the Buttonwood Inn on Mt. Surprise has served as the perfect home away from home for visitors from all over! Occupying six beautiful acres and housing all sorts of unique and thoughtful amenities, you and that special someone in your life are both certain to enjoy every moment of your romantic getaway! For additional information about our available packages or to book a room, feel free to contact the staff online or by phone: Telephone: (603) 810-0642.