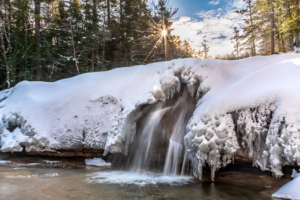 With autumn in full swing, it means that winter is just around the corner—so if you and your family are planning a getaway this year during the colder months, you should look no further than North Conway! With so many exciting activities and festivities to take part in, as well as charming bed-and-breakfasts available for booking, there is no shortage of fun to have. Keep reading to learn more about some of our favorite activities that you should check out while spending your winter in North Conway.
Visit Echo Lake State Park
This famous state park is open year-round, so even if you're normally accustomed to hiking or exploring during warmer weather, there is no shortage of activities and sightseeing at this location during the winter! This North Conway Lake is surrounded by beautiful scenery after a snowfall, but it's still one of the top destinations of the area no matter the weather. But when there's not too much snow, definitely check out the Cathedral Ledge hike!
Check Out the North Conway Ice Castles
One of the super popular winter attractions near North Conway, visiting the Ice Castles is a photographer's dream come true! Here, guests can wander through thousands of icicles that make one feel like they've stepped right into a children's fairytale book. Built by professional artists, the sculptures consist of all kinds of tunnels, fountains, and slides that family members of all ages will appreciate with awestruck faces.
Enjoy Some Ice Skating
If you've never been ice skating before, North Conway has plenty of excellent spots for skaters of all skill levels. The Ham Arena, The Conway Arena, and Schouler Park are all worth stopping by, with the latter feeling like it's something straight out of a Hallmark movie thanks to its outdoor rink in front of the beautiful train station.
Hit the Slopes to Ski and Snowboard
When some people think about winter vacationing, they envision themselves shredding fresh powder down a beautiful, snow-coated mountain—and such exciting, cinematic moments can be enjoyed at various ski areas and resorts around the area. Additionally, many places also offer snowshoeing, cross-country skiing, and fat biking, meaning you'll have several ways to traverse up, down, or across the mountain. Both Wildcat Mountain and Cranmore Mountain are nearby and offer some pretty spectacular slopes!
Have a Pint at a Local Brewery
If you're a fan of craft beer, North Conway is home to quite a few great breweries, and stopping by one is one of the best ways to stay warm and social during the colder winter months. The Sea Dog Brewing Co., Moat Mountain Brewing Company, and Barley & Salt are a few local favorites that have dozens of taps with beer from all across New Hampshire. And if you're hungry afterward, there is no shortage of spots to grab a bite to eat!
North Conway in the winter is one of the best spots for snow lovers and adventures, so don't hesitate to pack your bags, throw on your jacket, and book your stay at the nearby Buttonwood Inn so that you have a home base for your next stay in the area.
About The Buttonwood Inn
If you're looking for the ultimate spot to kick back, relax, and enjoy your upcoming vacation to North Conway, look no further than the Buttonwood Inn on Mt. Surprise! If you have any questions about the blog or would like to book your next stay, feel free to contact their staff online or over the phone for additional information or to ask about their vacation packages. Telephone: (603) 810-0642.