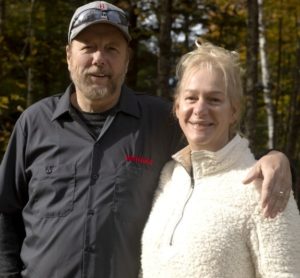 Sometimes, it takes years of doing something to realize that you're in need of a change—and this was the case for Doug and Donna-Marie, who after 25 years in their respective careers, decided it was time for something new. That's when they packed their bags and headed for the White Mountains of New Hampshire to experience a simpler and less-hectic way of living. Keep reading to learn a little more about the two innkeepers of the Buttonwood Inn on Mount Surprise and their mission to share their zeal and passion for a more natural way-of-life.
Meet Doug
A Roswell, NM native, Doug's background is actually in transportation management; but it was his wish to have his own business, which eventually drove him towards purchasing the Buttonwood Inn with his wife Donna-Marie. Nothing makes him happier than introducing his family, friends, and guests to the many beautiful wonders that the White Mountains have to offer. He also enjoys cooking breakfast—and his takes on both traditional and modern dishes are certainly worthy of praise!
Meet Donna-Marie
Born in Boston, Donna-Marie had always desired to own a homestead with history, charm, and a deep connection to nature. Her dream came true after 20 years as a college professor and bridal fashion designer, and her and her husband Doug were able to manifest their vision and acquire the Buttonwood Inn on Mount Surprise. She has a passion for baking and decorating and is constantly finding ways to improve the sensory atmosphere of the inn, which definitely drives guests to come back!
Their Mission
The Buttonwood Inn on Mount Surprise is unlike any other bed and breakfast in the area! The rustic, inviting 1820's farmhouse has a rich history of providing gratifying experiences for countless guests and families. Doug and Donna-Marie continue this tradition by providing a truly rejuvenating stay for all of their visitors. From their farm-to-table foods to the remarkable nature and splendor of the area, you're certain to feel comfortable and at home throughout your stay.
About the Buttonwood Inn on Mount Surprise
If you're looking for a quiet, relaxing getaway in the beautiful North Conway area, the Buttonwood Inn on Mount Surprise can accommodate you! The inn sits on 5.5 acres of beautiful and secluded land surrounding the base of Mount Surprise and has 10 lavishly decorated rooms that you're sure to admire. If you have any questions or would like to book a room, feel free to reach out to Doug and Donna-Marie online or over the phone: (603) 356-2625.