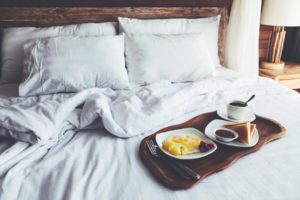 If you're struggling to plan your next vacation (or staycation), one part of the process that might be giving you trouble is scrolling through those seemingly endless hotel options. For that reason, you might want to include "bed and breakfast" as an option! These establishments are very elegant, historic homes that have been renovated and updated to ensure the comfort, convenience, and calmness that guests seek out. Keep reading to learn a little more about why bed and breakfasts like the Buttonwood Inn on Mt. Surprise make the perfect vacation spot.
1. Incredible Vacation Value
You might be able to find some hotel options that are cheaper than most bed and breakfasts, but for the most part, the value is far better at a B&B. For basically the same amenities—a really nice place to crash, a private bathroom, TV and internet, a common area, and an included morning meal—the bed and breakfast is likely going to cost you less. Not to mention, the local expertise and careful attention to detail are far better at a B&B than what any hotel staff can offer!
2. It's in the Name
There's a reason that these establishments are dubbed as "bed and breakfasts" and not just as "beds"; they provide you with both! Most hotels that offer breakfasts usually don't prepare delicious, home-cooked meals for you—which is something that B&B's specialize in. There's always a range, but you can expect some serious pancakes or waffles, excellent omelets, and piping hot homemade coffee. Not to mention, you're eating in an actual kitchen or dining room!
3. All the Little Details
If you've ever felt like a hotel seemed to charge you for every little thing including Wi-Fi, drinks and snacks, or even overpriced tourist attractions from the concierge's desk, you have nothing to worry about if you're staying at a bed and breakfast. At a B&B, you're far more likely to get everything you could possibly need included in the price. Not to mention, you're getting locally sourced amenities and reliable, trustworthy information!
4. Unbeatable Atmosphere and Ambiance
To put it simply, no two bed and breakfasts are the same—and they're all more colorful than your average hotel! No generic prints or paintings on the walls. No lifeless and uninspiring décor. You'll find locally inspired decorations or atmospheric touches that are unique to each B&B and its owner's vision. Instead of parking lots, you might find huge lawns and rows of trees framing an impressive view of a mountain. Instead of boring, tasteless chairs and furniture, you can experience cozy wicker chairs and comfortable rockers on a gorgeous porch.
Simply put, bed and breakfasts maintain that old-world charm that so many people love while offering a truly unique experience that all but the very finest of contemporary hotels can offer! Stay at a B&B like the Buttonwood Inn on Mt. Surprise and you'll see why they've become so popular and beloved!
About the Buttonwood Inn on Mt. Surprise
The Buttonwood Inn on Mt. Surprise is the perfect spot to rest, relax, and enjoy the incredible nature that the North Conway area has to offer. If you have any questions about their amenities, availability, or would simply like to get in touch, feel free to contact Doug or Donna-Marie online or over the phone for assistance: (603) 810-0642.