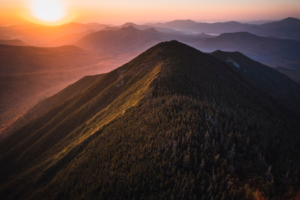 Nestled in the picturesque White Mountains of New Hampshire, North Conway is a charming little town that offers numerous outdoor activities, stunning natural beauty, and simply delightful attractions! Whether you're an outdoor enthusiast, a history buff, or a simple vacationer just looking for a relaxing getaway at a cozy bed and breakfast, North Conway has something for everyone! Continue reading below to learn a little more about a few of the fun things to do and local attractions that make North Conway a must-visit destination this fall season!
Scenic Train Rides & Drives
The Conway Scenic Railroad takes passengers on a journey through time and nature, offering a front-row seat to New England's vibrant autumn colors. This vintage train offers various excursions and is arguably the best way to view the fall foliage in New Hampshire—though it runs year-round! And if you'd rather drive yourself around to see the sights, look no further than the Kancamagus Highway, known for its incredible beauty and frequent wildlife sightings.
Outdoor Adventures
North Conway is an outdoor enthusiast's paradise; with such close access to the White Mountain National Forest, adventurers can enjoy all sorts of awesome hiking trails, mountain biking, rock climbing, and winter sports like skiing and snowboarding during the colder months. A few popular spots include Cathedral Ledge, Diana's Baths, and Echo Lake State Park, all of which are family-friendly!
Shopping and Dining
If you're looking for something a little less taxing, you might consider taking a stroll through North Conway Village, where you'll find a delightful mix of boutique shops, outlet shopping, art galleries, coffee shops, restaurants, and pubs. And if you're a fan of breweries, you should know that New Hampshire is in the middle of a craft beer revolution—so you're in luck!
Live Entertainment
There is also a very lively entertainment scene in North Conway, and if you're a fan of live music, theater performances, art shows, and other similar events, you'll have no shortage of places to go and people to see! And if you have young kids, they'll love Story Land, a dreamy Storybook-themed amusement park with over 30 exciting attractions, rides, and games.
North Conway is a treasure trove of natural beauty and family-friendly adventure. So don't wait to pack your bags and embark on an unforgettable journey to this charming New England destination—and don't forget to book your stay at a charming bed & breakfast so that you can wake up and seize each day!
About the Buttonwood Inn
The Buttonwood Inn has served as a home away from home for countless guests visiting the North Conway area, and they'd love to serve you and your loved ones next! If you have any questions about the blog or other fun activities to enjoy in the area, or you'd like to book a room, feel free to visit their website or give them a call today for additional information: (603) 810-0642.