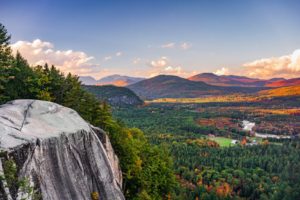 When it comes to New Hampshire, there's a lot to love! From the quaint, cozy towns scattered around the White Mountains to the flowing, picturesque rivers that snake through lush forests and landscapes, you'll find no shortage of scenic, natural beauty and serenity. If you're ready to discover this incredible little corner of the world, here are five things you should absolutely do during your visit!
1. Take A Scenic Drive Down the Kancamagus Highway
Designated as an American Scenic Byway, the Kancamagus Highway is a magnificent, 34.5-mile drive right through the heart of White Mountain National Forest. This route is beautiful no matter what time of the year you drive it, but in October the "Kanc" is often considered one of the best places in the country to view some incredible fall foliage! Brilliant shades of red, burnt orange, and gold decorate every turn, and your eyes will feast all throughout this wonderful 3-hour journey.
2. Stay in a Cozy Cabin or Inn—such as the Buttonwood Inn!
One of the best ways to experience the White Mountains up close is by staying in a rustic, one-of-a-kind cabin, inn, or bed-and-breakfast; this is simply part of the region's charm! There are several options for those who prefer to stay deep in the woods at remote locations, and also choices for those who prefer the convenience of nearby towns like North Conway. Built in the 1820's, the Buttonwood Inn on Mt Surprise retains a cozy, country atmosphere that you can truly unwind and lose yourself in after a fun-filled day of outdoor recreation.
3. Go on A Moose Safari
Believe it or not, you can actually go on a moose safari while visiting the White Mountains. There are several great moose safari companies to choose from, many of which are near North Conway and the Buttonwood Inn on Mt. Surprise. If you've ever dreamed of seeing a moose up close, this is your chance! Just keep your eyes peeled; though they're quite massive and easy to spot, they can do some serious damage to your car if they feel threatened and decide to charge!
4. Enjoy the Fresh Water
If you're a fan of canoeing, kayaking, or white-water rafting, you'll definitely have plenty to do during the summertime. There are endless ways to enjoy the gorgeous fresh water of the White Mountains, with water activities for every skill and comfort level. And if you're a fan of chasing waterfalls, the region literally has over 100; the Falling Waters Trail is one popular spot!
5. Ride the Conway Scenic Railroad
If you're feeling a little beat from hiking or would prefer that someone else does the driving (or in this case, conducting), the Conway Scenic Railroad is the best way to enjoy the beauty of the Mount Washington Valley without actually having to hike a mountain. There are two different train routes, each offering a beautiful excursion through some of the most epic sights the region has to offer.
If you're ready to experience the White Mountains for yourself, don't worry about running out of things to do—what you should worry about is when and where to start your adventure!
About the Buttonwood Inn on Mt. Surprise
Nestled in the White Mountains of New Hampshire, the Buttonwood Inn on Mt. Surprise is the perfect cozy spot to rest, relax, and enjoy the incredible nature and wildlife that the charming North Conway area has to offer. If you have any questions or would like to book a room, feel free to reach out online or over the phone: (603) 356-2625.