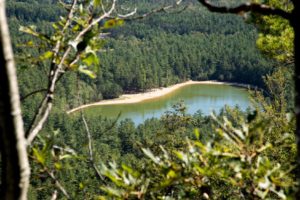 There's nothing quite like a weekend getaway to briefly step away from all of your responsibilities and enjoy some well-earned time off—but if you're thinking about visiting the gorgeous North Conway area, you may be stumped concerning how to spend your time. Located just down the road from North Conway Village, The Buttonwood Inn is the perfect spot to set up a home base while you enjoy the area and everything it has to offer. Keep reading as we share a few of our favorite things to do around here this time of year!
Cozy Coffee Shops, Restaurants, and Breweries
If you're a regular coffee fiend, passionate foodie, or alcohol connoisseur, there is no shortage of places to choose from whether you're looking for a drink or a bite to eat. A few popular coffee spots include The Met, Frontside Coffee Roasters, and Big Dave's Bagels, which was featured on Guy Fieri's "Diners, Drive-Ins, and Dives" on the Food Network!
And no matter if you're looking for a light meal to enjoy while you sightsee or a sit-down dining experience that's worth remembering, the area also sports all sorts of traditional and modern restaurants alike, as well as a nice selection of pubs and breweries including local favorites like May Kelly's Cottage, White Mountain Cider Co., and Chef's Bistro (you'll probably need a reservation). A few other notable spots include the Black Cap Grille, Vito Marcello's Italian Bistro, Horsefeathers, and Delaney's Hole in the Wall!
Scenic Hikes, Parks, and Nature Walks
It goes without saying that the nature in the North Conway area includes some of the most beautiful colors and landscapes imaginable—so why not take a hike or stroll and see it firsthand during your stay? Fortunately, the region is filled with all sorts of exquisite paths, parks, and routes worth trekking, including:
Cathedral Ledge (Echo Lake State Park)
Dixville Notch State Park
Artist Bluff Trail
Black Cap Trail
Boulder Loop Trail
Mount Pemigewasset
The Conway Scenic Railroad
One of the coolest seasonal things to do in the North Conway area is taking a ride on an old-fashioned train along the Conway Scenic Railroad. This historic railway was initially built in 1872 but was abandoned until 1974 when it reopened as a tourist attraction. The train leaves from the beautiful, Victorian-style station located right in the heart of North Conway Village, and passengers can choose from several different and equally scenic train rides.
Of course, to truly make the most of your weekend getaway, you'll need a nice roof over your head—and the Buttonwood Inn would be happy to accommodate you while you kick back and enjoy your time in North Conway!
About the Buttonwood Inn
Just two miles outside of North Conway Village, The Buttonwood Inn on Mt. Surprise is the perfect spot to relax and enjoy the incredible nature that the area has to offer. Occupying six beautiful acres, they're proud to house ten individually decorated rooms, two large social areas, and countless amenities that are certain to improve the quality of your stay. If you have any questions about how to spend your time in the area or you'd like to book a room, feel free to reach out online or over the phone for assistance: (603) 810-0642.