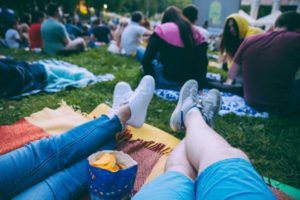 Summertime is finally upon us, and you might have a lot of exciting things planned for you and your loved ones this season. But if you're arranging a trip to North Conway and staying at The Buttonwood Inn on Mt. Surprise, you might be scratching your head trying to brainstorm activities that your family members will thoroughly enjoy. Here are just a few events and festivities that are worth checking out while you're enjoying your vacation in this beautiful setting.
Upcoming Summer Events You Don't Want to Miss
When you visit North Conway during the summer, you'll find no shortage of fun ways to spend your time! Whether it's enjoying some of the impressive, scenic nature that the region has to offer or experiencing the charm of downtown North Conway, you're certain to have a summer worth remembering. Here are a few upcoming events and great ways for you to spend your time—all of which are quite close to the Buttonwood Inn:
Sunrise Drives & Guided Tours
It's hard to beat watching the sun rise from one of the highest peaks in the northeast—and if you embark on one of these guided tours presented by Mt. Washington Auto Road, you don't even have to worry about driving yourself! If you can deal with waking up early in the morning for these 1 – 2 hour-long excursions, you and your family will be rewarded with unbeatable views and unforgettable scenes.
Bubbles & Beats at The Bears
If you're planning on bringing your little ones with you to North Conway, you won't have to worry about finding family-centric events to attend. On Fridays from 11 AM to 12 PM, Settlers Green hosts this kid-friendly mini-music festival. Every kid will receive a free bubble wand and special event pin—they're certain to remember their experience fondly! Parents and older siblings can also enjoy a quick bite to eat from several nearby restaurants and food kiosks including Cheese Louise, Trails End Ice Cream, and Boba Beach Bubble Tea.
Cruise Nights with MWV Old Car Club
This fair-weather event is hosted weekly from Memorial Day in May through Labor Day in September, and it's the perfect scene for any fan of classic cars, trucks, hot rods, and more. Located in the parking lot near Barley & Salt at Settlers Green Streetside, all vehicles, old or new, are welcome! There are also door prizes and a 50/50 raffle.
Arts Jubilee Summer Concert Series
Located at the Cranmore Mountain Resort, this summertime concert series has featured performances from all sorts of artists and musicians over the last 40 years! With upcoming headliners including Piano Men, Daniel Donato's Cosmic Country, Seacoast Wind Ensemble, and Moon Dance, your whole family is certain to have a grand time at this iconic celebration.
About the Buttonwood Inn
The Buttonwood Inn is excited to offer all of its guests a comfortable and memorable experience during their time in the North Conway area. Located just two miles from North Conway Village, we're just a quick drive from Settlers Green and all of the fun summertime events hosted there. Please allow us to serve as your home away from home and provide you with an unforgettable vacation! For additional information or to book a room, feel free to contact us online or over the phone: (603) 810-0642.